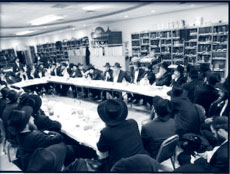 יום הבהיר ראש חודש כסלו "שבעת" לפ"ק
Dear Alumni Sheyichyu!
Sholom U'Brocho!
The following story was sent to me by Rabbi Menachem Shechter, who heard it first-hand from the baal hamaaseh, zechus horabim toluy boi!
There is a Jew in Skokie (ir hasmucha lechicago) Mr. Robinson, who is a well-to-do man who isn't that friendly with Lubavitch. He needed to travel to Miami for business and was planning on staying there for the first days of Sukkos. For whatever reason, he forgot about arranging a Lulov and Esrog for himself in Miami. Erev yom tov, after running around attending to his affairs, he got back to his lodging a few hours before yom tov and realized that he doesn't have a set of 4 minim. He quickly googled something about Jewish-centre-4 minim-chabad to try his luck, and – after a number of dead ends – he finds a Chabad house.
He quickly calls to make sure they have sets left, and makes a mad dash for the Chabad House. The shliach gives him a set and Mr. Robinson digs his hands in his pockets to take out his checkbook, when, to his horror, he realizes that he forget it at home. He immediately checks for his wallet, but again nothing. No credit cards, no cash, no checks –  nothing. Embarrassed (understand that he is a gvir, and a gvir feels that his entire metzius is having a lot of money, and there is no greater bittul for him than to be caught without cash), he turns around to the Shliach and apologizes that he doesn't have any money.
What's bothering Mr Robinson more than the need to borrow the funds, is the fact that there is a halachik issue of "lachem" if the daled minim aren't paid for. The Shliach, however,  calms him down and says its fine, and tells him that he can pay for them after Yom Tov.
Meanwhile they get into a conversation, the shliach Rabbi Fishel Katz, asks him for his name, to which he responds Mr. Robinson. Rabbi Katz asks: "Robinson from Chicago?" He says: "yes." So Rabbi Katz says in excitement: "Do you know that I worked for your grandfather many years ago in Chicago?" (Rabbi Katz is a nephew of R' Yankel Katz A"H from Chicago) Mr. Robinson was happy to hear that, and they wrapped up the conversation.
As Mr. Robinson was leaving Rabbi Katz ran over to his office to take a Sefer Yemei Beraishis, to show to Mr. Robinson that his great-grandfather paid for the mortgage of 770, and that there was a farbrengen in 770 with the Rebbe for the occasion (I think Rosh Chodesh Sivan 5710). As they were looking into the sefer they noticed that his Grandfather also paid for the Sdai Chemed to be printed and the Rebbe mentioned at the Farbrengen the Great Zechus that he has. Mr. Joe Robinson then asked the Rebbe to say a vort in the Sdai Chemed. The Rebbe  told him to bring  a Sdai Chemed and open it up to any place that he wants. Mr.  Robinson opened the sefer and it opened in Maareches Daled Minim. The rebbe was mayin for a few minutes and started discussing the shaala of "lachem" if you need to pay for the 4 minim before yom tov or on credit is ok and the Rebbe brought a story of the Frierdike Rebbe that he insisted on paying for the 4 minim After yom tov, and apparently that was the Rebbes maskana.
Mr. Robinson (junior) was shaking, WOW! 60 years earlier the Rebbe addressed to his Grandfather the very Shaala that was bothering him now 60 YEARS LATER!
The sequel to the story… As mentioned Mr. Robinson wasn't a major fan of Lubavitch (to say the least) at the time the story happened. However this story was told over by him since it happened many times and each time he told it over he was visibly shaken.
When he was back in Skokie on Sunday (the second day of Chol Hamoed) there was a party at his friends sukka (not a lubavitcher – but a yedid), and he couldn't keep this story in – so he said it again, shaking as he was relaying the story. At that party there was a Jew that has a "koch" in bringing people to the Rebbe, so knowing that Mr. Robinson isn't a friend of Lubavitch, felt this is the ais ratzon to convince him in going. B"H he was convinced and he committed to go to the ohel.
●●●
The following story was shared this week by haTomim Yisrolik Langsam, uzechus horabim toluy boi, I am sharing it in his words:
This past week my brother, Eli, a shliach on campus in Illinois, made a dinner. The guest of honor was a woman who is the president of the University.
About 3 weeks ago, the woman called my brother, and informed him that she would be unable to attend the dinner. She apologized, and explained that she had a dinner scheduled the same evening in Chicago. My brother tried to argue with her, explaining that it was out of the question for her to back out, that the success of the dinner was dependent on her. The woman, however, apologized again, and explained that there was nothing to be done, as the Chicago dinner had been scheduled earlier.
My brother was devastated, and he called my father (R' Shmuel Langsam) asking what to do, saying that his entire dinner was now at risk. My father responded 'What would you ever do in such a situation? Why, you'd turn to your boss, of course. So turn to your boss, and ask him what to do!'
My brother acknowledged the wisdom of the advice, and immediately faxed a letter to the ohel.
The next day, the woman called my brother to inform him that she would be participating in his dinner after all! Needless to say, the dinner took place (this past Sunday) with much hatzlocho!
●●●
The following story was once told to me by a meshulach who arrived at my house, who introduced himself as a Poylishe Rebbe. I am sharing it in his words:
My grandfather, although not a Lubavitcher chosid, visited the Rebbe frequently. Once, he took me with him to get a dollar from the Rebbe, and, thereafter, whenever he was by the Rebbe, the Rebbe would give him an additional dollar for his einikel; – i.e. for me. Every time he would return from the Rebbe with a dollar for me, my siblings and cousins would be jealous, and ask him why he didn't bring for them as well (in fact he had never asked on my behalf, it was always the Rebbe who took the initiative).
The last time that my grandfather was by the Rebbe, before he went to NY (from EY), my sister approached him and demanded that this time he bring back a dollar for her as well (but he, in fact had no intention of making any requests of the Rebbe).
On that occasion, after my grandfather had received a dollar from the Rebbe for himself and for me, as was routine, and was leaving, the Rebbe called him back, handed him an additional dollar, and said "dos iz fat zain shvester" [this is for his (meaning my) sister].
We still have this dollar in our family!
L'chaim! A Freilichen Rosh Chodesh Kislev and Chodesh haGeulah!!!
Rabbi Akiva Wagner
לזכות ר' שלום מרדכי הלוי בן רבקה, לגאולה וישועה קרובה ושלימה, תומ"י ממש בטוהנוהנ"ג!